Benedetto Pesaro.
It is widely accepted that the Pesaro Palace was begun in the middle 15th century for Benedetto Pesaro general commander of the Venetian fleet  who died  in 1503 serving the Republic. The Pesaro  was one of Venice's oldest, noblest and most established families.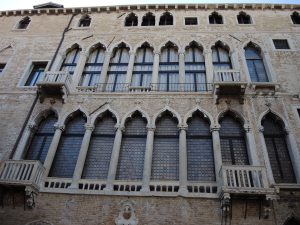 Benedetto was born in 1433 and  begun his career representing his family's merchant company in London .  He was later a member of the 'Council of Ten' Venice's most powerful political and criminal court at the time of the Old Republic open to the highest  ranks of the nobility only. After  Venice suffered two consecutive naval defeats in 1499, Benedetto was appointed as the new fleet's general commander to retaliate against the Turks.  He obtained substantial victories in the Dardanelles and conquered the islands of Cefalonia and  Lefkada although he died in action during the siege of Corfù.
Bendetto and his family besides providing top officials to the Republic were also great art patrons. In 1488 Giovanni Bellini was appointed by Benedetto to produce an altarpiece representing him and the male members of his family as the homonymous saints in disguise still in situ in the main Franciscan church. His cousin Jacob paid Titian for another altarpiece also in the Frari church to stress his honour and of his family.
The Palace.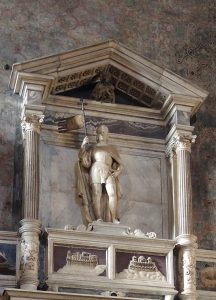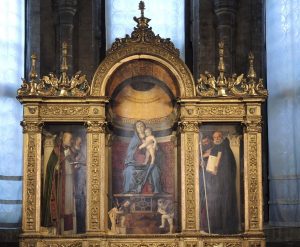 It is one of the largest in Venice in late Gothic style very much celebrated by the British scholar John Ruskin and which façade is characterized by two superimposed polifores of seven windows each marking the two noble foors almost 150 feet long. Instead the inner courtyard is rather small but very charming. The second name of the palace 'degli Orfei' originated after a philharmonic academy settled in the building in 1786 followed by a music society called Società Apollinea which moved later into the new Fenice theatre after 1792.
Before Mariano Fortuny took posession of the palace this was used previously as a printing house and lately as an apartments building. Needless to say when Mariano settled in all the original furniture and furnishings had vanished and so did also the old splendour of such a grand building. He started then a thorough restoration of the palace pulling down all extraneous accretions and structures not belonging to the original lay-out of the building and recovering the full length of the nobles floors.
The first one became his own abode and exhibit hall for his works and it was entirely furnished and fitted with original items designed by him including tables, cupboards, showcases and bookshelves.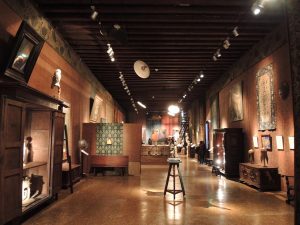 Inside visitors will get acquainted with a great number of Mariano's works such as fabrics, carpets, paintings, pictures, portraits, dress and of course his famous lamps and shades.
The second floor was Mariano's atelier and factory, at his height some 100 people were working there before he decided to move to a new facility in the Giudecca island still in production.