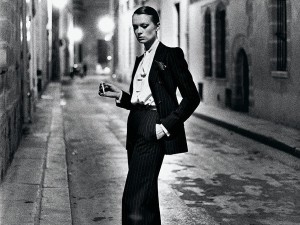 From April 7th to August 7th
At the Casa dei Tre Oci – Giudecca
Website: http://www.treoci.org
Curators: Matthias Harder and Denis Curti
This the first photographic exhibit ever held in Venice on Helmut Newton the famous photographer, born in 1920 in Berlin with the name of Helmut Neustaedter. The 200 pictures are selected from 3 volumes published in the late 70s :White Women, Sleepless Nights, Big Nudes and number photos from Vogue, Elle besides personal ones .
Newton introduced nude and erotism in fashion shots, never losing style and elegance so that his fashion pictures of beautiful women developed more and more into portraits.
The exhibit is housed in the so-called Casa dei Tre Oci (literally House of the Three Eyes) due to the three big windows characterizing the facade. The palazzetto was built in 1913 on Giudecca by the the Italian painter Mario de Maria and it is a great example of neo-Gothic architecture in Venice.
From the windows visitors can enjoy a great view over the Giudecca Canal and St. Mark area in the background.
From 2012 the house is now a venue for exhibitions and cultural events.